The WEWE ICO is a revolutionary project that allows users to mint their own tokens in the form of physical coins. Users can create individualized cryptocurrency or fiat currencies, which they can use by trading them on various exchanges and platforms.
"lyocredit" is a token that can be used to access the "WEWE GLOBAL: Get Tokens From Hardware Minting". The token can be purchased in exchange for either Bitcoin or Ethereum.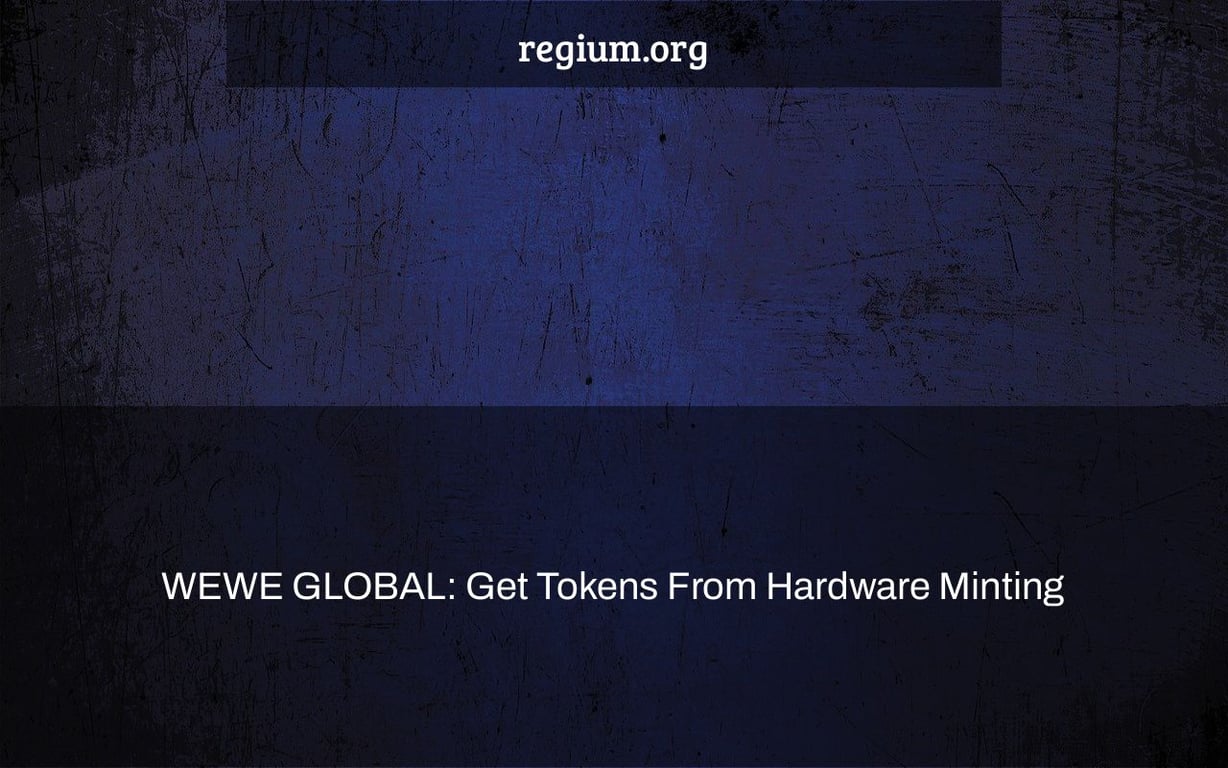 WEWE Global has released its newest product, the Program for Cloud Minting, which allows users to participate in token minting. The benefit is that purchasing a software entitles you to a rental contract for token-generating hardware. This hardware takes care of everything, and as a client, you get 900 days of free tokens.
Let's take a closer look at what it is and if it is a wise investment.
What exactly is WEWE Global?
DIGITECH WORLDWIDE INC's WEWE Global platform offers items and services that may be purchased using Bitcoin, Ethereum, or its own WEWE virtual currency. Other firms' services are available via which WEWE Global may accept bitcoin payments. Travel coupons for discounts, trading alerts, crypto-staking, and many more services are routinely added.
These are also available straight from the firms as services of other companies. So, why should someone go via WEWE Global to receive them? Because you can do the following on WEWE Global:
– Use cryptocurrency to make payments
– Take advantage of discounts
– Earn prizes by spreading the word about the product.
Collaboration with LYOFi
WEWE Global does not provide the services; rather, it acts as a middleman between the service provider and the end user. It does this by forming collaborations with other businesses and initiatives. The LYOFi Cloud Minting Program has partnered with the Cloud Minting Program.
LYOFi is a cryptocurrency platform that offers services like as minting, liquidity, farming, and staking. DIGIFI GROUP LTD owns the brand.
The minting of tokens is the first service LYOFi has released, and it has been supplied solely to its partner, WEWE Global, where it may be accessed and used.
What exactly is minting?
Proof-of-space mining is a kind of cryptocurrency mining. Tokens are moved from the total supply to the circulating supply as a result of this activity.
Hardware is required to begin minting. Those who carry out these tasks must usually first acquire the gear, put it up, and then manage it in order to continue working. Hardware management is not simple: it is a machine that must be manufactured, monitored, and maintained on a regular basis since it heats up quickly. It also takes up room, and if you want to mint a large number of coins, you'll need to locate an appropriate location for all of the equipment.
Minting is as easy as clicking a button using the Cloud Minting Program.
Cloud Minting Program
WEWE Global offers a variety of programs with prices ranging from $500 to $100,000. There are additional promotional schemes for $100 and $300 that are exclusively accessible in particular regions.
You may rent the whole piece of hardware, a portion of it, or many pieces of hardware for $5000. Select a program and pay using cryptocurrency, such as Bitcoin, Ethereum, or WEWE. The system will construct your rental contract when you make a purchase, and it will be activated in 10 days. Your hardware will then begin minting tokens.
Your LYOCREDIT (LYO) tokens are now being produced. Your Cloud Minting Program will provide you with free tokens for the next 900 days.
Why should you buy LYOCREDIT?
The Cloud Minting Program is currently only accessible for the minting of LYOCREDIT (LYO) tokens.
The LYO token is a utility token. It may be used to stake, buy and sell items and services, pay transaction fees at a reduced rate while trading, and for e-commerce, crowdfunding, card payments, and much more. It has a total production capacity of 250 million units.
This implies that when the staking service is live, you will be able to stake the LYOs you get after minting. On its website, LYO also outlines a buyback-and-burn policy to ensure the token's long-term value growth and price stability after it is launched for trade. It seems to be a token with a lot of room for development ahead of it!
Please share it if you like it.
You may also purchase and share the Cloud Minting Program with others. WEWE Global offers a referral marketing program in which people who promote the company's goods and bring in new consumers are rewarded. This referral marketing system offers a professional path for people who wish to become digital entrepreneurs and promote various cryptocurrency-related items. Those who do not have such a career plan may still take advantage of the services provided and begin sharing them with their friends to earn rewards, thereby recouping the cost of their Cloud Minting Program purchase!
WEWE Global offers a vibrant community of users, consumers, and promoters who are satisfied with the services provided.
Check out the project on social media to see for yourself how quickly the project is developing, especially since the Cloud Minting Program has arrived.
Telegram | YouTube | Twitter | Instagram | Facebook | Medium | Telegram | YouTube | Twitter | Instagram | Facebook | Medium
Watch This Video-
Related Tags
lyopay facebook
ethereum tokens list