Zilliqa, a cryptocurrency that is based on the Ethereum blockchain and provides private transactions with advanced sharding technology has begun recovering from its recent lows at $0.05 after hitting bottom for the second time in history last week. Is it heading back to top 100?
The "zil chart" shows that the price of ZIL has been recovering, and it's possible for it to go back on top 100 list.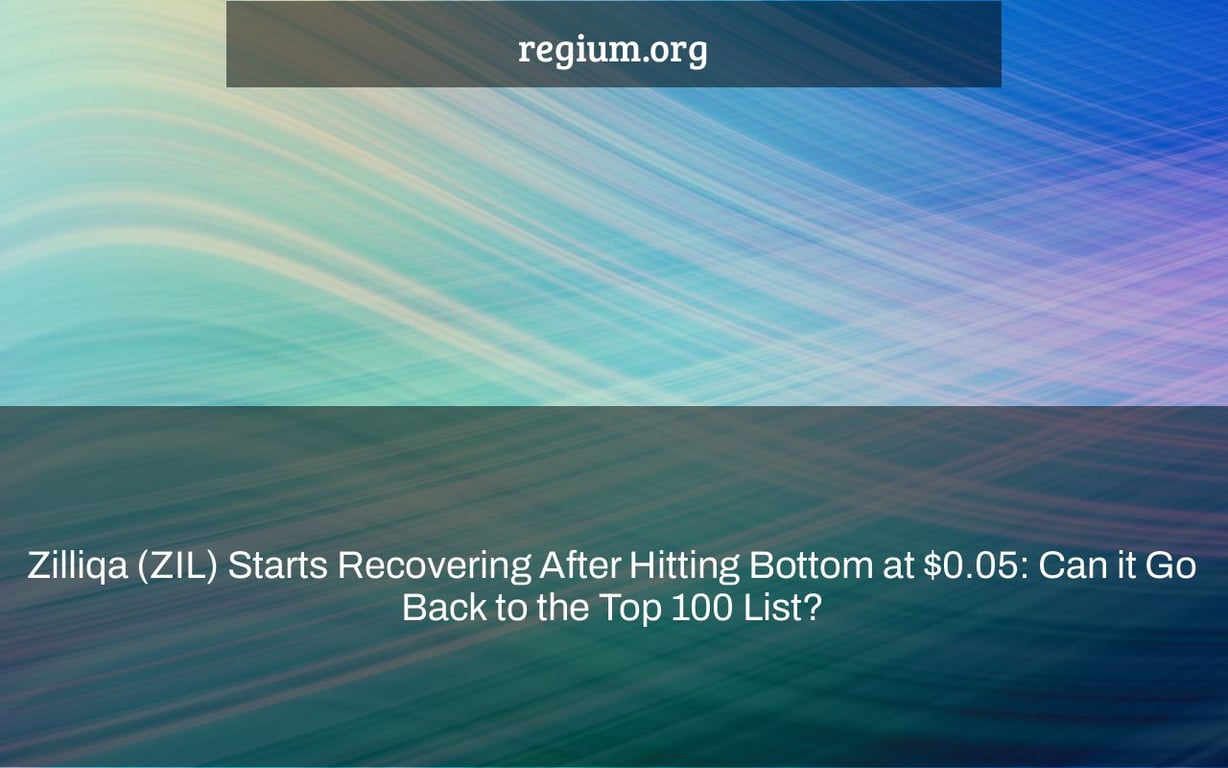 The year 2021 has come, and the cryptocurrency market is generally in the black. Having said that, there are other currencies that are failing to get traction due to high resistance levels. Zilliqa (ZIL) is an example of this, a currency that reached high levels early this year but is currently trying to recover.
Zilliqa is a high-throughput blockchain whose major purpose is to eliminate blockchain scalability off the list of the crypto world's most pressing issues, and it does this by using sharding as a second-layer scaling solution. The project has also begun construction on its own crypto metaverse, with the announcement of Metapolis, a "very immersive and gamified" extended reality (XR) platform. Unfortunately, this hasn't yet resulted in a price increase.
Until now, the price of ZIL
It's worth noting that ZIL isn't a very old project, but it's also not especially fresh. It was first released in January of 2018, so it has a few years under its belt. It was introduced at a price of $0.12 in the last days of the bull market that dominated 2017 and the first few weeks of 2018.
However, it fell along with the rest of the crypto market, which went into free fall mode, and ended up around $0.03 by early April 2018. The bear market was momentarily replaced by the bull market at that time, and while everyone thought the crypto winter was over, ZIL managed to make a return and explode all the way up to $0.20.
The currency began plummeting down again as soon as the bearish market returned, and the slide continued for a long period. In reality, from May 9th, 2018, to March 2020, ZIL was on the decline. There were a few times between these two periods in time when its price rose temporarily, but the project's chart reveals that they were just temporary trends caused by changes in the market's behavior.
Following the onset of the COVID-19 pandemic, however, ZIL began to recover, allowing it to begin pushing resistances, and by late 2020, the project's price began to experience actual, significant rise.
ZIL in the year 2021
ZIL made significant progress in 2021, with the project's price increase beginning in early November 2020, when it was $0.01, and concluding on April 16th, 2021, when it was $0.2376. This was ZIL's all-time high, and the coin's price promptly corrected to $0.14 after achieving it, only to rise again, this time much higher, to $0.2563 on May 7th.
After reaching this high point, the price of ZIL plummeted, plunging to $0.08 just two weeks later. Since then, the currency has seen significant volatility, oscillating between $0.12 and $0.08 as resistance and support.
The project has spent the most of its time below this level, at $0.058, since December 2021, but it has just begun to grow again, and its price has risen from $0.058 to $0.076.
It is now slightly below, at $0.07305, at the time of writing, with another minor increase driving it back up. In other words, ZIL will not have a very good end of year, but it might still see a large growth in the final 7 days of this year, and perhaps return to its higher levels in early 2022, especially considering that it is participating in the hottest trend right now, the metaverse.
Watch This Video-
The "zil usdt tradingview" is a cryptocurrency that has been struggling for the past few weeks. It hit $0.05 and is starting to recover now.
Related Tags
zilliqa coin analysis
zilliqa tradingview
zilliqa candle chart
zilliqa price
zil stock